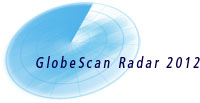 Making Sense of How the World Sees the World is the focus of the latest GlobeScan Radar Report.  A daunting mission, but the results confirm a major point: that trust in corporations is still a work-in-progress.
In a recent webinar hosted by Canadian Business for Social Responsibility (CBSR), GlobeScan President Chris Coulter provided research results from the Report on Canadians' attitudes toward corporate responsibility. The findings are based on the annual GlobeScan Radar, a global survey in over 20 countries, of citizen and stakeholder perceptions around business and its role in society.

1,002 Canadians were asked about their views on corporate social responsibility. Some of the topics covered include: Trust and Efficacy of Institutions, Defining Corporate Responsibility, and Corporate Leadership, among several more. The following are highlights from the CBSR webinar on the Canadian survey results.
Public trust in corporations still lacking
According to this year's results, it seems that trust in corporations is still found wanting. Among Canadians surveyed, global companies are the group least trusted. When asked to name the institution that operates in the best interest of society, only 2% of respondents chose "global companies" from the list. The biggest surprise is that 82% of respondents chose "scientists." The result is surprising because it left groups like NGOs a distant second, named by only 48% of those surveyed.
The results point toward a public skepticism that exists in terms of hidden corporate agenda. Ditto for the NGOs: there is some mistrust about concealed motivations. The public, it seems, wants cold hard facts. Scientific work is perceived as broadly objective, and therefore garners greater trust.
It is worth noting that National Companies as a group received 25% of responses, demonstrating that proximity may earn greater trust among the public.
Defining Socially and Environmentally Responsible Companies
Canadians surveyed identified corporate responsibility as a company's environmental protection and care toward employees. While there is fluctuation in rate of responses due to global events and media, Protect the environment and Treat employees well have remained strong for a decade. For example, this year's third-ranking response is Create Jobs/support economy when defining corporate responsibility, while in 2010 Be honest/ethical received among the highest number of responses, likely due to the erupting mortgage crisis stemming from financial institutions.
Naming the Leaders
When asked unprompted to name a company that is a leader in corporate responsibility, most respondents could not name any. The struggle to name a leader is in itself an important finding, because it sheds light on the current miscommunication between consumers and business.
Out of 1,002 respondents, only 40 to 50 companies were named in total, none of which reached double-digit mentions.
Among those identified as most socially responsible companies, Bombardier was chosen, while IBM was named for most environmentally responsible companies. Coca Cola was named in both categories.
Overall, Canadians do not have a deep understanding of who's leading in corporate responsibility and why. This means there is a great opportunity for companies to demonstrate leadership in Canada and communicate that work to stakeholders in a meaningful manner.
Other interesting findings…
1. On the question of whether government should do more to force companies to treat people and the environment more responsibly, 88% agree, 11% disagree and 1% responded they are not sure. This result clearly demonstrates there is public desire for greater, bolder leadership by governments.
2. Globally, there is growing interest among the public to learn about corporate environmental and social responsibility work. Canadians rate among the highest respondents with such interest.
Want to learn more?
Visit GlobeScan website: http://www.globescan.com/expertise/trends/globescan-radar.html
Visit CBSR website: http://www.cbsr.ca/resources/cbsr-publications
Image: GlobeScan Radar logo, courtesy of GlobeScan
Originally posted on Justmeans
______________________________
Meirav Even-Har is a Justmeans staff blogger. She reports on Canadian CSR issues.  Meirav is an independent sustainability consultant and writer working in Toronto, Canada.  She specializes in green buildings, water issues and stakeholder engagement. TWITTER: @CSR_Meirav LINKED IN: http://www.linkedin.com/pub/meirav-even-har/13/a87/734