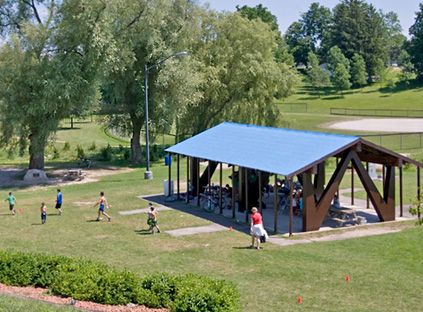 Eight-nine per cent of Ontarians feel their communities would benefit environmentally and economically by incorporating green alternatives, according to a new survey conducted by Research House. Green product manufacturers and suppliers may look into upcoming community development projects such as public parks and community centres for potential collaboration opportunities.
The April 2012 survey focused on Ontario consumer perceptions around creating greener communities, and what cities and developers could be doing to foster the development and implementation of green building products.
To create greener communities, Ontarians feel that local municipalities should take action to foster the development and expand the use of innovative eco-friendly products in Ontario. According to the survey:
96 per cent of respondents feel municipalities could do more to ensure shared community spaces such as parks and recreation centres incorporate environmentally friendly products.
94 per cent also agreed that new residential and commercial developments could include more green products, such as eco-friendly roofing and patio solutions.
93 per cent feel companies should make greater investments in the research and development of environmentally sustainable building materials.
83 per cent of respondents feel investment in green building and product solutions is just as important as investing in major healthcare, military and technology sectors.
The survey was conducted in March by Research House over the phone with one thousand adult Ontario residents on behalf of Ontario Tire Stewardship. The regions surveyed include the Greater Toronto Area, Central Ontario, Western Ontario, Eastern Ontario, and Northern Ontario.
"Factoring environmental sustainability into our business practices, and the community spaces we share and the products we use every day isn't just a trend. It's a necessary, everyday consideration that extends beyond World Environment Day, to preserve our environment, health and the livelihoods of future generations," says Andrew Horsman, Executive Director, Ontario Tire Stewardship.
"Addressing this shift, Ontario has an ambitious Used Tires Program that focuses on the environmental and economic benefits of responsible tire recycling, and investment in research to create innovative tire derived products in Ontario."
Western Ontario was found to be slightly more likely than Eastern and Central Ontario to agree that investing in sustainable solutions is just as important as investing in other sectors such as technology, military and health care, while the Greater Toronto Area is at the average.
Original article: Carbon49.com
____________________

Derek Wong is a Toronto based sustainability consultant who helps businesses use sustainability as a business strategy.  He is a member of the advisory board of Sustainable Business Forum which works towards building the future of healthy enterprises. Derek can be reach via email, LinkedIn, or Twitter.