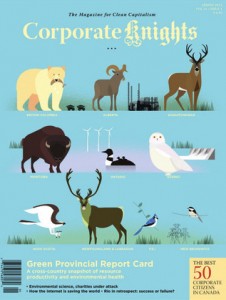 The growth and maturation of corporate citizenship is often dependent on the availability of tools, timely research, shared experiences and above all, a community that recognizes leaders from laggards. Whether on the global stage or here in Canada, few contribute to the discourse of corporate sustainability quite like Corporate Knights (CK).
Known for its various rankings of corporate sustainability performance, CK offers more than its well-known Best 50 Corporate Citizens or the Global 100 Most Sustainable Corporations reports. A media, research and financial products company, it is also about driving an honest dialogue on all things Clean Capitalism. A term coined by the organization, it refers to "an economic system in which prices incorporate social, economic and ecological benefits and costs, and actors know the full impacts of their marketplace actions." [1]
What makes Corporate Knights a CSR "enabler"? This fourth blog in an ongoing series will aim to provide a brief summary of some of CK's contributions this past year.
The Rankings…
Corporate Knights ranks companies, cities, provinces, MBA programs, and even U.S. presidents. Here is a quick look at two of many rankings and scorecards on the CK roster:
The Global 100
Among the various rankings and scorecards, it seems that the Global 100 is the most well known. Launched in 2005, the Global 100 Most Sustainable Corporations is announced annually at the World Economic Forum. According to Corporate Knights, the Global 100 is "the most extensive data-driven corporate sustainability assessment in existence" [1] The extensive process by which companies are selected and then ranked, involves multiple organizations and a two-stage process. [2]
"The Global 100 includes companies from 22 countries encompassing all sectors of the economy, with collective annual sales in excess of $3.02 trillion, and 5,285,645 million employees." [3] At the coveted number one spot for 2012 is Novo Nordisk, a pharmaceutical firm (Denmark), followed by Natura Cosmeticos (Brazil) and Statoil (Norway) to round the top three. [4]
Green Provincial Report Card
"Our aim is to give readers a snapshot of the environmental health and resource productivity of our provinces and territories, and in doing so give a sense of how serious each jurisdiction is in dealing with such challenges." [5] Leading with best overall score are the provinces of Ontario and British Columbia, based on a set of 35 indicators grouped into seven categories: air and climate, water, nature, transportation, waste, energy and buildings, and innovation.
Leading in the Air and Climate category, the Yukon achieved an 87% score, while the Northwest Territories ranked first in Water. For Transportation Nunavut scored the highest. While the territories scored well, their low population density makes comparison with provinces such as Ontario or Quebec less than useful. The Report Card therefore looks at the performance of the provinces as one group (out of ten) and territories as another (out of three).
Corporate Knights… the American Edition
With a dedicated U.S. issue published earlier this year, the content targeted an American readership. Perhaps recognizing that trade is increasingly global, CK has maintained content with an international lens. Increasingly, U.S.-focused subject matter is included online, such as an interview with Van Jones, an article about Republicans' support for carbon pricing, and the recent ranking of the greenest U.S. presidents.
Greenest President in U.S. History
Ranking the Greenest President in U.S. History was a task Corporate Knights asked top environmentalists to help determine-specifically, senior representatives of organizations such as: Sierra Club, World Wildlife Fund and The Nature Conservancy, to name three of 12. "America's 26th President Theodore "Teddy" Roosevelt was overwhelmingly selected as the greenest president in history for making conservation of the country's natural resources a cornerstone of his policy," reads the September 18, 2012 press release. [6] In second place is another Republican President, Richard Nixon, responsible for creating the Environmental Protection Agency and signing the Clean Water Act and Clean Air Act into law. [7]
Online and in print, readers will find an objective look at corporate performance, as well as context. While numbers are plentiful on the Corporate Knights website, so are the narratives on policies and trends that influence the private and public sector to become more or less sustainable. Clean Capitalism is part of a dynamic conversation and Corporate Knights keeps up with the dialogue.
This article originally published on Just Means

Corporate Knights website – Click HERE
Global 100 website – Click HERE
Green Provincial Report Card – Click HERE
Greenest President in U.S. History – Click HERE
___________________________________
Meirav Even-Har is a Justmeans staff blogger. She reports on Canadian CSR issues.  Meirav is an independent sustainability consultant and writer working in Toronto, Canada.  She specializes in green buildings, water issues and stakeholder engagement. TWITTER: @CSR_Meirav LINKED IN: http://www.linkedin.com/pub/meirav-even-har/13/a87/734