Climate change is just one more reason to respect the work that firefighters do everyday to keep us safe.
Six weeks after Typhoon Haiyan pounded the Philippines, Toronto firefighter Geoff Boisseau brought a team to the storm-ravaged city of Tacloban to assist and train its local firefighters.
The typhoon, which made its first landfall on Nov. 8, 2013, was one of the most powerful tropical storms ever recorded with sustained wind speeds that reached 310 kilometres per hour. It completely wiped out villages, killed thousands, and pushed millions, mostly poor families, out of their homes and communities. Tacloban got the worst of it, including a storm surge more than five metres high.
It's difficult to link one particular typhoon to climate change, but it's generally accepted that rising ocean temperatures resulting from climate change are leading to more frequent and intense storms. That's been Boisseau's observation, and after arriving in Tacloban, he was struck by the extent of the devastation and how unprepared local firefighters were to deal with it – everything from flood rescues to collapsed infrastructure.
"Look at all the equipment we have here today," Boisseau tells me during Toronto Fire Services' recent Fire Ops 101 event, a chance for local politicians and media to play firefighter for a day. "This is more than Tacloban had," he adds. "For us, we open the cupboards and there's equipment there. For them, they open the cupboards and they're literally bare."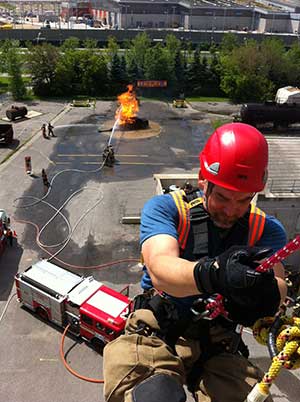 At the Toronto event, on Eastern Ave. just west of the Beaches, dozens of real firefighters were on hand in full gear with several fire trucks on site, ready to show members of the public how it's done and how risky it can be. That morning, I had the chance to help fight car and railcar fires, and I got to storm up a smoke-filled staircase in a burning building wearing what felt like 100 pounds of gear – suit, mask, helmet, oxygen tank and other bells and whistles.
Highlights of the day: I got to rappel down the side of a six-storey building and use hydraulic tools to rip open a car and cut the hinges on its door. I was exhausted. Hot. After several hours of living a boyhood dream, I came to realize how fortunate we are in the developed world to have such highly trained, well-equipped emergency workers. But after talking to a few of them, it also became clear that the impacts of climate change aren't just putting stress on first responders in the developing world.
Firefighters in Canada – in both urban and non-urban settings – are also feeling the punch, whether it's battling frequent, more intense forest fires in British Columbia and Saskatchewan or rescuing citizens caught in flash floods in cities like Toronto and Calgary.
Saskatchewan, where the spread of wildfires at the moment is unprecedented, has already burned through its 2015 firefighting budget as hot, dry weather turns forests into a tinderbox. "The forecast is for this long cycle of dry weather to continue well into the fall," fire ecologist Robert Gray warned on CBC Radio.
Firefighters are also first to respond when heat waves take their toll on vulnerable populations or when freak weather rolls into town – from ice storms to tornadoes.
In B.C., fire crews are battling more than 180 fires throughout the province, where cities like Vancouver are being blanketed in smoke and falling ash. "Longer term, we will see more fires," John Innes, dean of the University of British Columbia's faculty of forestry, told CBC. "We will see the fire season extending, it will start earlier, it will go on later, and the fires that we get will be more intense."
Firefighters are also first to respond when heat waves take their toll on vulnerable populations, particularly seniors (see Vancouver), or when freak weather rolls into town – from ice storms to tornadoes. During Toronto's 2013 ice storm, fire services communications staff fielded 3,630 calls over a three-day period, more than seven times the normal call volume.
"It increases our work load substantially over a short period of time," says Frank Ramagnano, president of the Toronto Professional Fire Fighters' Association. Call volumes also spike just as it becomes more difficult for firefighters to get to work, or respond to calls.
"The weather does not know we are there to help. We still need to operate under it and try to keep ourselves safe while helping the public," adds Ramagnano, describing how one Toronto crew – based at Station 142 in the Jane and Finch community – finished its shift only to find their own vehicles flooded in the station parking lot. "So not only are they tired from working around the clock, but now they need to deal with how to get home."
All of this strikes at the heart of how cities are built and managed, says Adina Kaufman, who joined Toronto Fire Services in 2002 and has trained emergency-response teams in Cambodia and Nicaragua. "City infrastructure, both public and private, are feeling the effects of these kinds of events, including the freeze-thaw cycles," she tells me.
Freak floods
Increased flooding – more frequent, and more extreme – is probably the most visible impact of climate change, at least for city dwellers. The warmer the air gets, the greater its ability to hold moisture, to the point where 100-year flood events are starting to happen every decade, and in more unsuspecting places.
A report that appeared in June in the British medical journal The Lancet estimates we are four times more likely to be exposed to extreme rainfall later this century compared to 1990 levels.
We're responding to floods all the time now, so we've got to be prepared.
Toronto, for example, expects to see its maximum intra-day rainfall rise from an average of 66 millimetres last decade to 166 millimetres by the 2040s. For coastal cities such as Halifax and Vancouver, storm surges heighten the risk further.
A recent study from the University of Waterloo graded 15 of Canada's top cities for their flood preparedness, and most performed poorly. Only one city – Ottawa – managed an A-, while nine received a C+ or lower. Toronto tied for fifth place with a B-, while Vancouver and Halifax landed at the bottom of the pack.
"We're starting to see it more and more. We're responding to floods all the time now, so we've got to be prepared," says firefighter Steven Buckingham, a 25-year veteran and captain on Toronto's Rescue Squad 331.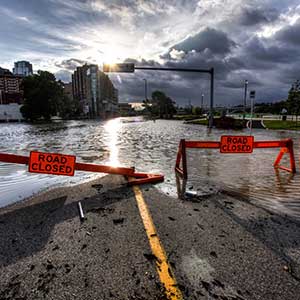 Firefighters in Calgary had their work cut out for them when persistent heavy rainfall in June 2013 led to catastrophic flooding, the worst in Alberta's history. More than 100,000 people were displaced and five lost their lives.
Less than a month later, Toronto was pummeled with such heavy rain that roadways, subway stations and basements throughout the city were overwhelmed with water. It was so bad passengers on a stranded commuter train had to be rescued with boats.
Structural damage and utility service disruptions from fast-moving water often require rapid response, whether it's to oversee mass evacuation or to conduct high-risk rescue operations.
Boisseau says this new reality means the tools of the trade from yesterday often aren't enough. "I've been on health and safety for 18 years on this job," he explains. "When we started, we were struggling to get personal floatation devices on any vehicle. After a few years we got them on the trucks that responded only to the water events. Now we're putting them on all trucks because of the flooding that's happening now."
Sinkholes are a related hazard, says Boisseau, recalling a six-alarm fire at a mattress factory in March 2014. As firefighters battled the blaze, enough hose water was released to create a large sinkhole under a fire truck, which got trapped. "We couldn't do anything afterwards. We had to call in the mechanics to figure out how to get out," he says.
Whether it's water from the hoses or from rain, the risk is the same as city infrastructure ages and deteriorates. Ice storms and heavy winds can cause similar havoc, while prolonged and more severe heat waves can cause roads and railway tracks to buckle. As first responders, firefighters are also seeing more cases of heat exhaustion, and have to worry about it themselves.
"We have experienced several cases of heat stroke," says fire association president Ramagnano, whose members have had to adapt to the higher temperatures and extended heat waves seen over the years. Often, this means more frequent shift rotation, shedding gear to reduce weight, and developing new equipment to quickly bring down core body temperature. "One example is the Re-Hab chair, which has water pockets for soaking arms and misting fans," he says.
Adapting to technology
Just as new technologies are helping firefighters adapt, new clean technologies are upping the learning curve when responding to building fires and vehicle accidents.
More homes and commercial buildings are equipped with solar panels, which are capable of generating electricity even when grid power to a house or neighbourhood has been cut. This creates an electrocution risk. Also, the added weight of the panels increases the likelihood of a roof collapse from fire damage.
"We need to identify clearly where the shut-offs are, so we're not dealing with energized lines," says Buckingham.
In Ontario alone, more than 20,000 buildings now have some sort of rooftop solar power system, most of them installed in just the past five years. Recognizing this as a growing problem, the Canadian Solar Industries Association and the Ontario Association of Fire Chiefs launched a new training program last November that will familiarize firefighters with some of the risks they may face when entering a building connected to a solar power system.
Buckingham says electric vehicles are another challenge, whether it's hybrid-electrics such as the Toyota Prius or plug-in vehicles like Nissan's Leaf or GM's Volt. Like solar panels, they pose an electric shock risk even after an accident when the vehicle may appear to have no power. "We try to shut the batteries down as soon as possible," he says.
It's not as easy as it sounds. The first step is determining if the vehicle is battery-powered. The next step is figuring out where the batteries and all associated cabling are located. Finally, they have to be safely disconnected.
"On our computer (in the fire truck) we can access a guide for most vehicles," Buckingham explains. "It's pretty good up until maybe the latest models. We can pull off a schematic of where the batteries are. Typically, batteries have been under the hood, but now it can be in the trunk, or under the seat somewhere."
I asked Buckingham what worries him more – dealing with a conventional vehicle and the threat of a fuel fire, or having to work with an electric vehicle and potentially being shocked. For now, he'd rather deal with a gas-powered vehicle.
"What worries me more about the electrical end of things is that there's no standard. They route the high-voltage wiring quite differently from model to model," he explains. "I like conventional cars because I know how they're laid out."
Adaptation for fire services is a never-ending process. Technology changes. The climate is changing. Both present challenges that require constant training and new resources that weren't required 10 or 20 years ago.
Ramagnano recalls one fire captain he worked with five years ago who, during his time off, used to go to flooded neighbourhoods with his own pump and help residents remove water from their basements. Looking back, he wonders whether this should be a part of the job.
"Why not develop crews that just help get the water out of buildings in non-emergencies?" he asks.
It's the type of question municipalities are starting to ask as they look at how to make their communities more climate resilient.
This article was originally published on Corporate Knights
_____________________________
Tyler Hamilton is the Editor-in-Chief of Corporate Knights Magazine. Prior to joining the magazine, Hamilton spent 10 years as a business columnist at the Toronto Star. Hamilton is also the author of the book Mad Like Tesla.