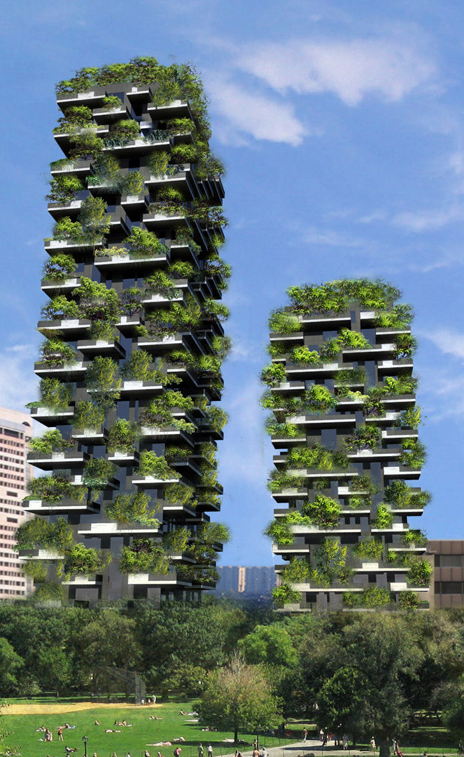 Visually stunning and environmentally progressive condo buildings and office towers are appearing in Europe and Asia in recent years, including the Bosco Verticale in Milan, Hearst Tower in New York, and Urban Cactus in Rotterdam. Corporations and condo developers take note … whoever construct the first of this type of building in Canada can really make a statement. I talk to Andrew McAllan of Oxford Properties to see when that might happen.
The next generation of consumers increasingly demand sustainable practices. Combining environmental initiatives with stunning design, builders worldwide are thinking outside the box. In Milan, the Bosco Verticale is a vertical forest, housing 400 residential units and 900 trees of three to six meters tall. Architect Stefano Boeri anticipates a 5% increase to construction costs for the additional structure required to support the plants.
Similar initiatives are taking place across the globe. In New York, the Hearst Tower underwent a complete remodel made from 80 percent recycled steel. As the world headquarters of the Hearst Corporation—bringing together their numerous publications under one roof including Cosmopolitan, Esquire, Marie Claire, Harper's Bazaar, Good Housekeeping and Seventeen—the Hearst Tower is the first green high-rise office building completed in New York City.
In Rotterdam, Netherlands, the Urban Cactus provides tenants with carbon-mitigating greenscaped balconies. What's good for Mother Earth is great for the bottom line. They are taking a leadership stance and take part in reducing wasteful practices.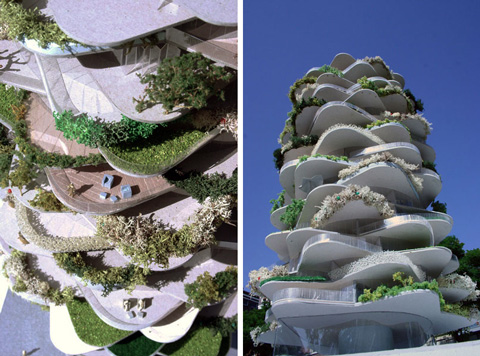 When it comes to costs, long-term savings lead to ongoing profits. Builders had been hesitant from environmental practices, fearful of increased spending. Green builds can reap financial rewards with only small material cost increase. The Natural Resources Defense Council states that LEED-certified green building projects face only two percent more in upfront costs. The costs are often offset by faster lease-up rates, rental premiums and increased market valuation. Builders move fast to catch the growing trend. McGraw-Hill reveals green construction increased from $3 billion in 2005 to $58 billion in 2011. The study anticipates continued growth with numbers reaching $122 billion in 2015. Soaring demand for earth-friendly materials create more attainable resources, such as The Eco-Building Resource, a Toronto-based supply store specializes in providing builders with eco-friendly materials.
Going green also reduces operating costs. A study by the Institute for Building Efficiency shows commercial building owners spend 30 percent of their operating budget on energy. Investing in reduced energy building can translate into huge operational savings. Government backed efficiency incentives are also becoming more commonplace. The Deep Energy Efficiency Pays (DEEP) program is one example of a proposed utility-based incentive. The program encourages business owners, energy providers and utilities to join efforts. Commending whole building retrofits for total optimization of building efforts.
In addition to building construction, ongoing operations are also important. There are operational systems that care about profitability as well as the environment. Mobile payment and software company Intuit can help manage finance while going green. The Intuit Green program places sustainability at the core of business operations. With more businesses recognizing the value of sustainability, everything from bookkeeping and marketing can be managed while reducing the carbon footprint.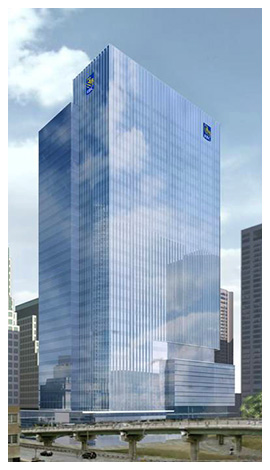 So why has these buildings not appear in Canada yet? In addition to Canadians being more conservative in nature, Andrew McAllan, Senior Vice President and Managing Director of Real Estate at Oxford Properties, relates to me that Canada's extreme cold weather and low cost energy costs may be two contributing factors. Sustaining a vertical forest when temperature swings from 20°C to -30°C may be quite challenging. Also not helping is Canada's low energy prices. (See The Real Price We Pay for Fossil Fuel Energy on how the Canadian government uses taxpayers' money to subsidize fossil fuels to keep their prices low.)
While Oxford Properties are leading the way in building the first LEED Platinum office tower in Toronto (see: Oxford Properties Building New RBC Headquarters), visually it doesn't quite capture the public's imagination in the same way the above examples do. I can't wait to see which Canadian corporation or developer will make the leadership leap and make such a statement.
Images of Bosco Verticale, Hearst Tower, Urban Cactus, and RBC WaterPark Place courtesy of Stefano Boeri Architect, Foster + Partners, UCX Architects, and RBC respectively.
This article was originally published on Carbon49