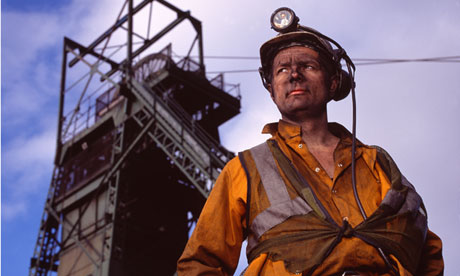 Leading US campaigner Bill McKibben's Do the Math tour urges divestment for environmentally and socially responsible funds.
"We're going after the fossil fuel industry," Bill McKibben tells about 1,800 cheering fans in a Washington, DC, theatre. "They're trying to wreck the future, so we're going after some of their money."
Al Gore notwithstanding, McKibben – an author, academic and founder of the grassroots climate group 350.org – is America's leading environmental activist. His 21-city Do The Math tour begins a campaign to persuade colleges, churches, foundations and governments to divest their holdings in coal, oil and natural gas companies.
"It does not make sense," McKibben tells the Washington audience, "to invest my retirement money in a company whose business plan means that there won't be an earth to retire on."
He's right about that, but the divestment campaign raises a thorny question: where can investors who worry about climate change put their money?
Divest for our Future, 350.org's divestment website, recommends "environmentally and socially responsible funds". The trouble is, the biggest and best-known mutual funds that call themselves environmentally and socially responsible also invest in fossil fuel companies. They evidently haven't heard McKibben's message.
For example, the Parnassus Equity Income Fund (assets: $4.8bn/£2.9bn), which says it takes environmental, social and governance factors into account when investing, holds about 14% of its assets in oil, natural gas companies and electric utilities that burn fossil fuels.
The TIAA-CREF Social Choice Equity Fund (assets: $1.23bn/£0.77bn) says it seeks out companies that are "strong stewards of the environment", but owns shares in dozens of oil and gas firms including Hess, Marathon and Sunoco, and a pair of shale gas giants, Devon Energy (which was named the "producer of the year" by Oilsands Magazine) and Range Resources.
Then there's the Calvert Equity Portfolio (assets: $2.4bn/£1.5bn), which calls itself "a leader in sustainable and responsible investing (SRI)", but has about 10% of its portfolio in fossil fuels. One of its biggest holdings is Suncor, which says on its website that it was "the first company to develop the oil sands, creating an industry that is now a key contributor to Canada's prosperity".
Finally, the Domini Social Equity Fund (assets: $793m/£495m), which describes its portfolio as "consistent with social and environmental priorities". Among its top 10 holdings is Apache Corp, an oil and gas exploration and production company.
More fossil fuels than can be safely used
None of this can be called responsible if you accept McKibben's math, which he unveiled last summer in a groundbreaking article in Rolling Stone. Using data from the non-profit Carbon Tracker Initiative, McKibben estimated that the earth could burn another 565 gigatons of carbon dioxide and stay below 2°C of warming, a climate target agreed upon by nearly all of the world's nations. But fossil fuel corporations already have 2,795 gigatons in their reported reserves – five times the safe amount.
"It will be burned," McKibben said in DC, "unless we find ways to intervene".
In light of McKibben's numbers – which have not been challenged by the fossil fuel industry – exploring for more oil and gas is folly. The world already has more than it can safely use.
Cary Krosinsky, a founder of the Carbon Tracker Initiative, told me that SRI funds should rethink their support for fossil fuels. "When one 'Does the Math', you see several possible outcomes. Business as usual is unacceptable – it apparently leads to catastrophe. Incremental change is likely to be insufficient. That leaves radical transformation. Either way, fully owning the most invasive fossil fuel companies will probably turn out to be bad for portfolios as well as society longer term." Funds should at least underweight "the more environmentally invasive sectors," he says.
I emailed CREF, Parnassus, Calvert and Domini to ask about their oil and gas holdings. Parnassus did not comment, and CREF referred me to a policy saying that it does not "exclude entire sectors from consideration for ESG (environmental, social, governance) reasons" because it wants to remain broadly diversified. Instead, it takes a "best in class approach", selecting top companies from each sector.
By email, Adam Kanzer, managing director and general counsel at Domini, said Domini was reviewing its approach to oil and gas. "Bill McKibben is absolutely right to focus attention on fossil fuel investment, and I fear his math is correct," he said. Domini already excludes nuclear power coal, the integrated oil giants and companies that derive significant revenue from tar sands development.
"Our funds' energy exposure is currently tilted toward natural gas, which we continue to view as a 'transitional' fuel towards a renewable energy future," Kanzer said. "A move away from fossil fuels can't happen overnight, and it's important to support "better" sources of energy even as we look to alternatives."
Bennett Freeman, Calvert's senior vice president for sustainability, said McKibben's call for divesting was valid – "but there's not just one valid approach". Calvert, he said, engages actively with companies like Shell, Devon Energy and Anadarko, urging them to recognise and respond to climate risks, and to invest more in renewable energy. "Doing what we do, which is to challenge and confront these companies, is also valid," he said.
If nothing else, all this indicates the difficulty of the task McKibben set for himself. He's taking on the industry that undergirds the global economy. Seven of the 10 biggest companies in the Fortune magazine's Global 500 list are oil companies – Shell, ExxonMobil, BP, Sinopec, China National Petroleum, Chevron and Conoco Phillips. By comparison, the 1980s campaign to end investment in apartheid South Africa was small beans.
Harvard's students voted recently to divest fossil fuels, but the university's governing body will resist. So will other mainstream institutions. Until the socially responsible mutual funds get out of fossil fuels, can you blame them?
This article was originally published on Guardian Sustainable Business
________________________________
Marc Gunther is a veteran journalist, speaker, and writer whose focus is business and sustainability.  Marc is a contributing editor at FORTUNE magazine, a senior writer at Greenbiz.com and a lead blogger at The Energy Collective.   For more information please visit his website  at www.marcgunther.com