This is the ninth of a series of weekly columns by Tyler Elm and Jim Harris on how sustainability can save business.
Canada needs a "national approach to climate policy and carbon pricing." Think that this is the advice of some environmental group? Then think again; this is the urging of the Canadian Council of Chief Executives (CCCE) in a policy paper: Clean Growth 2.0: How Canada can be a Leader in Energy and Environmental Innovation.
The paper highlights how Canada can build a more competitive economy and a more sustainable society while ensuring adequate public finances to fund Canadian's way of life. It calls for the federal government, in partnership with the provinces and territories, to develop a national energy framework, specifically to "develop clean energy solutions and position Canada for leadership internationally."
And, contrary to current inaction, the CEOs urge Canada to take the lead in establishing a bilateral energy and climate accord with the United States to incorporate Canadian interests, and secure greater cross-border collaboration on energy, climate change policy, technology and trade.
The CCCE stresses that a bilateral approach does not mean that nothing can be done until there is clarity on US action; rather, it argues that we must begin to prioritize areas for coordination and ensure that our policy is adaptable to the eventual US system. One thing is certain; during the interim, we cannot expect the Americans to adequately represent Canadian interests in our absence.
Proffering five strategic recommendations, the CCCEs argue that a national approach to climate policy and carbon pricing should be implemented, beginning with a relatively low price and rising over time. Revenue from this should be available as incentives for companies and individuals to adopt cleaner technologies, products and services and shift consumption from high energy intensive goods to lower intensity.
A staggering 88 per cent of CEOs say that innovation is important to grow their top line and increase profitability according to a study by Leger Marketing in conjunction with The Globe and Mail. But only 33 per cent of CEOs are happy with the current results that they are achieving. Among other things, a price on carbon would stimulate innovation because it would give business a greater payback for increasing the efficiency of their operations.
Back to the CCCE paper: the best answer to rising energy costs and environmental impacts associated with energy use is energy efficiency. The most energy efficient countries will have a great competitive advantage in a world of expensive energy.
The paper points out that Canadian electricity production makes use of less than 50 per cent of the energy source used in generation! Coal, nuclear and gas-fired electricity generation plants use only one third of the energy — the rest goes up the smoke stack as "waste" heat. But it doesn't have to be that way.
Denmark, the global leader in co-generation [also known as Combined Heat and Power (CHP) or district energy], uses that "waste" heat to heat buildings, hospitals and entire towns. CHP or co-gen increased the efficiency of Denmark's electricity production from Canada's 33 per cent to 90 per cent! Imagine tripling the efficiency of the Canadian electricity grid with one simple strategy!
Figure 13 in the CCCE paper articulates the benefits of a climate strategy that engages the end user of energy. On average 100 units of energy of natural gas generating electricity converts into only two units of lighting energy! Meaning that only 2 per cent of the energy generates productive end use — and 98 per cent is lost due to inefficiency. Is this sustainable from a business perspective? No; and it highlights the value of energy and climate policy being broadly applied across the economy, including consumer end-use.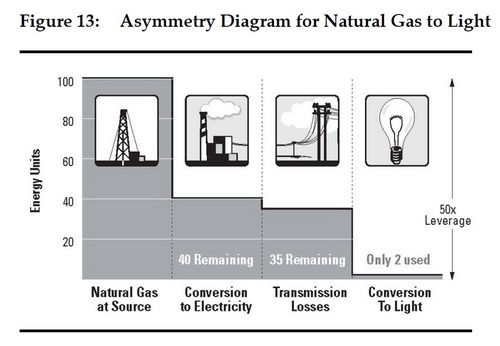 Source: Clean Growth 2.0: How Canada can be a leader in energy and Environmental Innovation, page 29
Energy Efficiency = Competitive Advantage
Jim loves to tell the story about the first oil crisis of 1973 — when the price of oil quadrupled in just 18 months. Japan recognized how vulnerable its economy was to rises in oil prices — as the country imports 100 per cent of its oil. So the Ministry of Industry and Trade (MITI) began the most aggressive energy efficiency program in the country and the world's history.
Japan's heavy industries — pulp and paper, cement, petrochemical and steel — were able to improve energy efficiency by up to 35 per cent in the following years.
Steel making is hugely energy intensive. By 1987 US Japanese Steel makers were using 41 per cent less energy than US steel makers. And the impact? Over the next 13 years 300,000 American steelmakers lost their jobs, with energy inefficiency being a significant factor. So was energy inefficiency an advantage or a ticking time bomb for America's economy?
In terms of energy efficiency, Canada has the second worst economy of the G8 countries: Germany, for instance, produces almost twice as much GDP for each unit of energy input. Only Russia is worse, but seriously, who wants to benchmark the Canadian economy against Russia's? The world average is 6.1 so Canada not only lags among the G8 but also worldwide:
G8 GDP Produced per Unit of Energy
(PPP $ per kg of oil equivalent in 2009)
Italy: 11.3
United Kingdom: 10.8
Germany: 9.2
Japan: 8.7
France: 8.4
US: 5.8
Canada: 4.7
Russia: 3.0
In summary, we need not wait for others to develop smart policy to promote energy development and environmental stewardship as mutually reinforcing objectives with Canadian interests in mind — it won't happen and we have more at stake.
Nor should we wait for the Americans to dictate to Canadians our national approach on energy and climate, what qualifies as "renewable" energy or the treatment of embedded carbon in our exports to the US. Canadian business wants to do more; but, we need a policy roadmap that is clear, predictable, fair and efficient, and we need leadership and representation on the international stage so that Canadian firms selling into the US and other markets are not unjustly subject to carbon tariffs or other border adjustments.
This article was originally published on Huffington Post
___________________________________________________
Jim Harris is an internationally renowned business speaker and environmental speaker. You can watch a video of him speaking about some of these issues at IdeaCity, the Canadian equivalent of TED. He is the author of Blindsided, a #1 international bestseller published in 80 countries worldwide. He speaks at 40 conferences a year around the world. You can reach him through Linkedin.com or follow him on Twitter @jimharris
Tyler Elm specializes in employing business sustainability as a strategic framework for business innovation, profit and organizational enhancement. Tyler has an unprecedented wealth of first-hand knowledge, experience and success at incorporating sustainability into the business operations and culture of some of the world's largest companies. You can follow Tyler Elm on Twitter:@TylerJamesElm