Each day offices across Canada and the world receive thousands of shipments in cardboard boxes. Once unpacked they go straight to recycling depots or landfills. Office supplies chain Grand and Toy and its US parent OfficeMax launch their reusable Boomerang Box to help their customers go green and reposition themselves from a commodity supplier to a business partner. We take a look behind the scenes to see how they use sustainability as a business strategy.
What is this new cardboard box? Instead of using regular one-time-use cardboard boxes to deliver office supplies to their customers, Grand and Toy custom designed a reusable box they called the Boomerang Box. Once a shipment is delivered, customers save the empty Boomerang Boxes until they are picked up by Grand and Toy's delivery staff at the next shipment.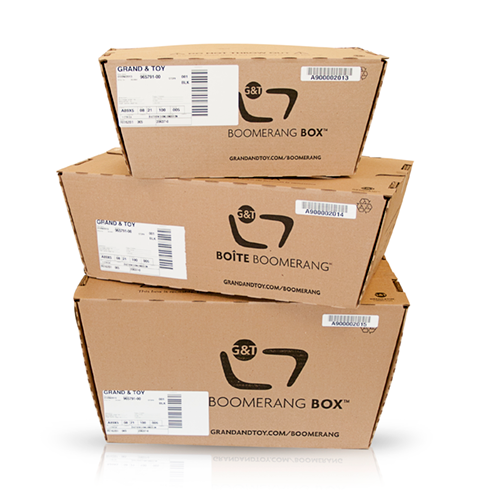 The Boomerang Box comes in three sizes and features a stackable design to minimize storage space needs, while the sturdy, corrugated material allows the boxes to be reused for an average of six to 10 delivery cycles.
Each Boomerang Box has a unique barcode that allows it to be tracked throughout the shipping cycle. A customer can log in to their Grand and Toy online account page and see a dashboard display that tracks how many Boomerang Boxes they have received and how many they have returned. As we have learned from the 'Mainstream Green' study by Ogilvy & Mather, making results tangible to the end user is a key in motivating green actions. Allowing end users to easily track how many boxes they have used and returned helps drive positive actions. (See: 12 Ways To Turn Green Intentions Into Green Actions)
The Boomerang program's pilot, launched in 2012 with 695 Grand and Toy Vancouver customers (representing 5,800 locations) and 23 BMO Financial Group locations in the Greater Toronto Area, was a success. Jim Johnston, director of environmental sustainability and compliance at BMO Financial Group, liked the results. "By partnering with Grand and Toy, we saw an innovative opportunity to reduce waste at many of our Toronto branches and offices. We look forward to expanding the program to all of our locations across Canada and the United States." According to Kevin Edwards, Vice President Marketing at Grand and Toy, the pilot saved more than 46,000 one-time-use boxes.
In fact, the Canadian pilot was so successful that Grand and Toy's US parent OfficeMax decided to try the same concept in the US with Boeing as the pilot site. The Boeing trial was also a great success and the Boomerang Box program is currently being rolled out in the US as well. (See: YouTube video)
I am seeing a trend clearly taking place in Canada that businesses are using sustainability to differentiate themselves from their competitors, especially in industries at risk of being commoditized. A few months ago, I wrote an article focusing on the commercial real estate industry in which Andrew MacAllan, Senior Vice-President & Managing Director of Oxford Properties, told me they don't want to be in the commoditized business of renting out plain office boxes. Instead, they want to offer office space that can help their clients, such as RBC, to attract and retain talents, reduce operational and environmental footprint, and foster team collaboration. Oxford Properties want to use sustainability to differentiate themselves from their competitors. (See: Oxford Properties Building New RBC Headquarters)
Much like commercial real estate, delivering office supplies could easily be run like a commoditized business, but it can also be run as a value-add service that integrates with clients' in-house sustainability programs. Rather than positioning themselves as plain stationary suppliers, OfficeMax and Grand and Toy show they want to play a role in helping their clients' green initiatives, save operational costs, and reduce environmental footprint. The key is to understand your clients' goals and partner with them to achieve those goals. It makes business sense. It makes environmental sense. And it helps form stronger client relationships. It's a wonder the role a cardboard box can play in a business strategy.
This article was originally published on Carbon 49
____________________________
Derek Wong is a Toronto based sustainability consultant who helps businesses use sustainability as a business strategy.  He is a member of the advisory board of Sustainable Business Forum which works towards building the future of healthy enterprises. Derek can be reached via email, LinkedIn, or Twitter.